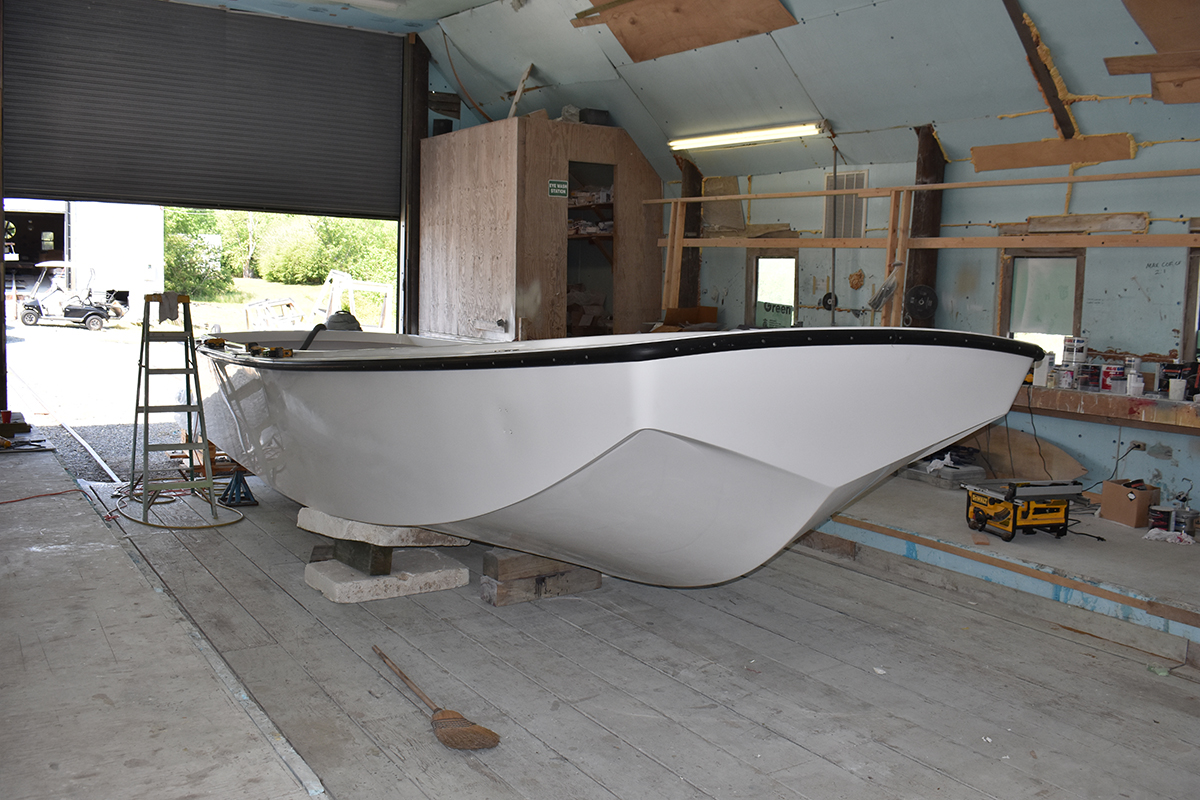 To the. yard converts oil supply vessel for Va. oysterman; plenty of work planned for the wooden boat pros in the bay
[ad_1]
ayou Shipbuilding and service in Mobile, Ala., converts a 96ft x 24ft oil supply vessel into an oyster farmer for WE Kellum Seafood in Weems, Virginia.
The vessel will be used to transport and plant oysters and seed shells on the company's private oyster farms. It will also be used to plant on public land for the Virginia Oyster Recovery Program.
"We bought the boat in the Gulf and decided to find someone to convert it," says Tommy Kellum of WE Kellum Seafood. "It's much easier to install pumps and wash cannons (used to blow seeds and shells over oyster swamps) in the Gulf than in Virginia," Kellum explains.
As Virginia oysters have flourished in recent times, trade relations between Commonwealth oyster farmers and Gulf of Mexico oyster farmers and seafood merchants have nurtured a friendly trade relationship. On good advice, the Kellums bought the OSV and entrusted the conversion to Bayou Shipbuilding.
The shipyard came highly recommended by Stan Wright, owner of Wright Brand Oysters-Seafood, and Dominick Ficarino Jr. of Dominick's Seafood, both of Bayou La Batre, Ala.
The Kellums met Wright through their oyster farming businesses and got to know Ficarino through their seafood retail store, Kellum Farms Produce & Seafood Market in Irvington, Virginia.
"We sell a lot of seafood that we buy from Dominick for our store," says Kellum. "He's a great guy with a first class product. Stan and Dominick strongly recommended that we take the boat to Bayou Shipbuilding, and they have been in the business in this area for a long time.
The boat is expected to arrive in Virginia in late June after a seven to eight day race up the Atlantic coast from the Gulf. Although this is the first OSV hull conversion for the Virginia oyster fishery, the state Menhaden fishery regularly uses them for conversion to menhaden steamer and transport boats.
Jennings Shipyard in Reedville, Virginia, continues to produce garveys. The company has a nearing completion 27 'x 10' Garvey that will be used by commercial fisherman Bill Harris of Hartfield, Virginia. The boat will have a steering position at the rear, leaving enough space forward for a gillnet reel. It will be powered by a Suzuki 300 horsepower outboard. The engine will be mounted on a stainless steel outboard bracket.
In May, the company had a 27 'x 10' Garvey hull laid at the jobsite to be used for a research / education vessel for Stockton University in New Jersey. It will be used for teaching and conducting research activities as part of the school's marine science program. The contract on the boat is still under negotiation pending certification of Coast Guard passengers. "I really don't think that's going to be a problem," says Larry Jennings, owner of the yard.
Mentioned in the November 2020 column, Jennings has since completed and delivered a fiberglass cockpit to Wayne Goddard of Valley Lee, Md., And his son-in-law Brian Hite of Ridge, Md. buy the boat Poppa Francis. The deck boat built in 1989 was one of the last wooden deck boats built on Chesapeake Bay. It was built by Wayne's father, Francis Goddard.
Moving to Deltaville, Va., David Reid from New Point, Va., Was at Deltaville shipyard in May, replacing four backboards on Carlton Haywood's Sharon H., a 38 'x 10' deadrise built by Virgil Miller of Deltaville in 1972. Reid and his brother Danny are part of the woodworking boat culture of the Bay which helps keep the bay's work boats alive. They don't have a shipyard, but for 40 years they've been where the boats are pulled to do the work to get every boat going. The traditional boatmen of the region know them well.
When asked if they wanted their address published in NF to advertise their work, David clarified, "We have more work than we can do! The unfortunate message for the Bay Boatmen was that traditional and affordable carpenters, like the Reids, are now scarce.
While on the hard, the Sharon H. was shaded by the large wooden hulls, side by side of the 61.7 'x 20.4' x 6.5 'Nellie Crockett and the 55' FD Crockett, 8 'x 15.7' x 4.6 '. The ship's crew at the Deltaville Maritime Museum painted the bottom and sides of the FD Crockett's log hull, while Ted and Mimi Parish and the family from Georgetown, Md., Groomed the Nellie for the next annual Chesapeake rendezvous. Bay Buyboat in August. Owners normally do their annual maintenance at a yard closer to their home, but foreclosure at that yard brought them to the Deltaville Shipyard, a yard capable of hauling a wooden hull the size of the Nellie Crockett. The Nellie Crockett (1925) and FD Crockett (1924) are listed in the National Historic Landmarks Program.
[ad_2]